Arnold Rothstein
Biographical Information
Aliases
The Brain
The Big Bankroll
Gender
Male
Born
January 17, 1882


Tenderloin

, New York
Died
November 5, 1928
Midtown, New York
Affiliation

Rothstein Gang

Title(s)
Don
Arnold "the Brain" Rothstein was a Jewish-American mob boss, racketeer, and bootlegger who was the head of the Rothstein Gang during the early 1900s during Prohibition. He worked with gambling, racketeering, and bootlegging primarily, but also worked with the construction of whorehouses, extorting small business owners, and turf warfare with the Masseria crime family. He was killed in 1928 by George McManus over a gambling dispute.
Biography
[
]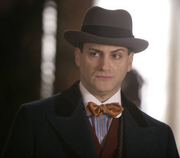 Rothstein was born to a Jewish family, the son of Abraham Rothstein and Esther. He was known to be an intellectual and smart for a gangster, while his older brother studied to become a legitimate person, a rabbi. Rothstein built a casino in Tenderloin in 1910 and became a millionaire by the age of 30, also using his horse track at Havre de Grace in Maryland as a front. He was a compulsive gambler, and was also smart in betting money; he once bet $12,000 that a man could not swallow a cue ball, like he had done many other times. Rothstein chose one, and the man died, and he won all of the money; he chose the biggest one, so the man could not swallow it. He was also a flashy gangster; Lucky Luciano said that Rothstein taught him how to dress, and he was also the one who brought style to gangsters in The Bowery.
In 1919, he fixed the World Series Baseball by paying the White Sox to lose, not because he bet money, but because he wanted to make it stretch to seven games. He was acquitted through political connections gained through his father's banker friends, whom he had strong links with. He was never successfully persecuted for the crime.
Rothstein allied with Nucky Thompson's organization during the 1920s during the Prohibition beer wars, and fought against Gyp Rosetti for control over the Atlantic City boardwalks. The Rosetti War ended in 1923 after Rothstein was able to kill Rosetti in exchange for becoming business partners with Joe Masseria, although his associates and mob bosses Dutch Schultz, Lucky Luciano, and Meyer Lansky were at war with him, and eventually, his whole gang was composed of bosses who had their own gangs. 
Death
[
]
In October 1928, Rothstein had a cold streak in his gambling, and eventually owed George McManus $320,000 after a match, which was fixed by Titanic Thompson in order to win all of the money that Rothstein had put on the table. When Rothstein did not pay the money back, McManus sent his associate Hyman Biller to kill him. Dutch Schultz allowed him to, because Rothstein's protege Jack Diamond had killed his friend Joey Noel, and Rothstein was shot at the Park Central Hotel in Midtown, mortally wounding him. He was buried with full Orthodox Jewish honors in Ridgewood, Queens.