The
First Barzini War
was a brief
mob war
between the
Barzini crime family
and the
Corleone crime family
that lasted from March 1 to April 17, 1936. It resulted in the expansion of the Barzini and the death of Corleone Underboss
Johnny Trapani
.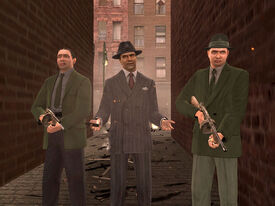 Don
Emilio Barzini
and the Barzinis under caporegime
Pietro Testa
and caporegime
Dante Marcelini
began to expand into the Corleone territory, most of it run by
Johnny Trapani
and
Luca Brasi
. The Barzinis began the mob war by bombing
Trapani's Bakery
in
Little Italy
, which made tons of money for the
Corleone crime family
. Trapani was gunned down by the Barzinis after killing three of thee enforcers, which proved to be a tremendous blow to the Corleone income through rackets. Luca Brasi retaliated by killing Marcelini at his Midtown apartment, running him over with a car. The Barzinis made a new offensive, taking over northern Little Italy, forcing the Corleones to bribe an
FBI
agent to put the pressure on the Barzinis and thus end the war.