The
Little Italy War
was a
mob war
between the
Corleone crime family
and the
Tattaglia crime family
. It resulted in the Tattaglia takeover of
Little Italy
, a Corleone territory, which resulted in the Corleones hitting the mattresses.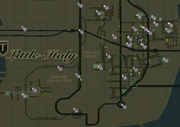 The Tattaglias of
Brooklyn
took advantage of the
Barzini expansion
into Little Italy to foment a new mob war with the goal of taking Little Italy from the Corleones. The Tattaglias were led in the field by underboss
Bruno Tattaglia
, who made a new crime wave, taking over the
Verona Warehouse
. The warehouse was the "capital" of Little Italy; whoever held it had control over Little Italy's rackets and businesses. The Tattaglias forced the Corleones into their safehouses or the
Corleone Compound
, holding pretty much everywhere else along with the other three of the "
Five Families
".