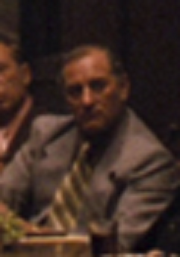 The Panza crime family are an Italian-American organized crime syndicate from Boston, Massachusetts, who were once led by the vicious mob boss Domenick Panza, who was disrespected for his cruelty and involvement in most of the city's organized crime presence and the drug trade.
History
[
]
The Panza crime family were founded in 1929 in Boston by Domenick Panza, a young hood whose gang took over most of the city. He started small, robbing street vendors, stealing wallets, and robbing banks, and his gang turned into a crime family, represented on The Commission. Panza was disrespected because of the high crime rate in Boston, but he and Vito Corleone, Don of the Corleone crime family of New York, had some understanding of one another.
The Panza Family were rivals with the Irish Mob and were (officially) allied to the Patriarca crime family of Providence, but fought them on numerous occasions. The Commission dons also had a hatred against Panza. In 1951, he was present at the Commission meeting at the Hotel Alioto, which officially ended the Five Families War between New York's Five Families of the Mafia. The Panza Family abstained for the vote to force the Corleones to accept drug trade on their turf, as they were friendly to the Corleones, but did not want to rival the majority of the bosses. He died in the Atlantic City Massacre of 1979.