Patrick "Paddy" O'Donnell was an Irish-American mobster and boss of the O'Donnell Mob of Chicago, with connections to the Chicago Outfit. In 1948, he attempted to move the organizaton's operations into Midtown in New York City in addition to the gang's territory of Chicago, but died shortly after, falling from the Crest View Hotel.
Biography
[
]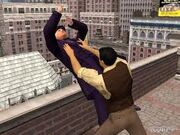 O'Donnell immigrated from County Meath, Ireland, in 1906, while his paternal ancestor Cillian O'Ryan immigrated with his family in 1841. O'Donnell was raised in the North Side of Chicago, which had a high Irish, Jewish, and Polish population as opposed to the almost totally-Italian South Side. He was involved in the illegal gun running trade and was recruited by Al Capone as the Underboss of the Chicago Outfit, while he was also the head of his own organization.
In 1947, he started making plans for a move to New York City, with the Scaleri Brothers assisting in this plan after their release. He arrived first and set up shop at the Crest View Hotel, threatening proprietor David Russell and owning the rooftops of the hotel as a base, hanging out at his penthouse room with several prostitutes that he hired. 
Death
[
]

O'Donnell died when he fell from the balcony of the Crest View Hotel, with newspapers speculating that he slipped or was depressed. However, a more-popularized story involves a mobster from one of the Five Families, specifically the Corleone crime family, whose Soldato Aldo Trapani was suspected but never charged with his murder. There is a theory that says that the Corleones bribed the newspapers with help from Norm Felichelli's front "Grand News", which is also likely.