Paulie Gatto
was an
American
mafioso
and a
soldier
in the
Clemenza crime family
of
New York City
. He grew up in
Brooklyn
and had an apartment there, which was given to
Corleone
enforcer
Aldo Trapani
after he had shot Gatto three times in return for his betrayal of the Corleones.
Biography
Edit
Paulie Gatto was born in the New York Bronx in a poor Sicilian family. His father, Riccardo, had immigrated from Naples to America in 1910 at the age of eight years old. Paulie joined the Corleone crime family in 1940, finding service under Capo Peter Clemenza, who had his own regime back in Paulie's hometown. Gatto became a soldier in the family in 1945, also being the driver for Don Vito Corleone.
After Corleone ran into muck with the Tattaglia crime family of Little Italy and Brooklyn, Tattaglia associate Virgil Sollozzo paid Gatto, in full cash, $2,500 to call in sick several times in the Christmas days in order for them to put a hit on Don Corleone while he was buying fruit; his son Fredo Corleone had to be the driver, and he was not good with a gun at all (like Paulie was). Gatto returned from "illness" after Tom Hagen returned from being held hostage by the Tattaglias, and the people believed that he was sick, until he tried to have all of the Corleones arrested at a New Years' party at Rosa's brothel in Little Italy, fleeing the firefight between the police and the Corleone made men. He was then marked for death by the Corleones and Clemenza at the orders of Sonny Corleone, the head of the Corleone family while Vito was in the hospital. During that time, Sonny was also angered about the death of Luca Brasi, which occurred weeks before but was not discovered until now, when the Tattaglias sent him Luca's Bulletproof Vest and a fish to say "Luca Brasi sleeps with the fishes".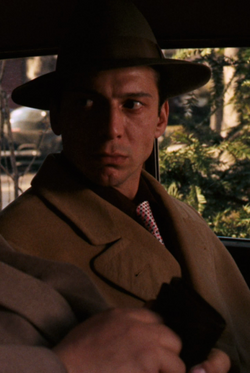 Clemenza did not believe that his soldier would be a traitor until Gatto refused to fight when the Corleones raided The Roost, a Tattaglia diner, so Clemenza and Aldo Trapani prepared to kill him. Gatto recognized that he was about to be killed, when, the car pulled over so that Clemenza could urinate, Trapani cocked a gun behind his head. Gatto and Trapani fought in a running firefight throughout a warehouse storage yard, and Trapani shot Gatto three times in the head, chest, and arms after Gatto shot at explosive barrels to keep Trapani behind as he ran. Gatto's body was left in the yard, while Rocco Lampone, a Clemenza soldier, drove Clemenza and Trapani away from the crime scene.