Anthony John "Tony" Soprano Sr. (August 22, 1959 - September, 2007) was an Italian American mobster who was boss of the DiMeo crime family. He is known for being the son of Former DiMeo boss, Johnny Soprano or as he was known as "Johnny Boy" and the nephew of Corrado Soprano.
Biography
[
]
Early life
[
]
Soprano was born to parents Giovanni and Livia Soprano (née Pollio) in 1959 in Newark, New Jersey. Soprano grew up in Newark with his older sisters, Janice and Barbara. When he was a young kid he witnessed his father beating a man with his Uncle, Corrado "Junior" Soprano and later saw his father cut off the finger of a local butcher, an incident which he later attributed meat to, developping a longtime trauma.
Entering the mafia
[
]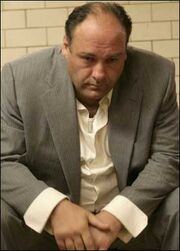 In the 1970s he began to join in on his father's business. In 1982 Soprano and another associate, Paulie Gualtieri whacked a bookmaker named Willie Overall, burying him under a house. Soprano had two children named Meadow and Anthony Jr., nicknamed "A.J." with his wife, Carmela. After his father's death in 1986 Soprano became a capo.
Becoming boss
[
]
In 1999 the current boss Giacomo Aprile died of cancer and his uncle Corrado took over as boss, but was arrested and incarcerated, after a brief conflict with his nephew, though he remained the official boss with Tony becoming the Street Boss. In 2007 he officially became boss and had to struggle in a battle between Phil Leotardo and the Lupertazzi crime family. The war ended with Leotardo's death, as approved by his own underboss Butch DeConcini.
Death
[
]
Tony Soprano continued to run the family until 2007, when he was fatally shot in a Holsten's Diner in Newark, New Jersey.