Jurassic World: Dominion Dominates Fandom Wikis - The Loop
Play Sound
Vito Spatafore was a Soprano crime family Capo.
Biography
[
]
Spatafore was from Brooklyn, New York, nephew of Richard Aprile and cousin to Giacomo Aprile, Jr.. Spatafore joined Aprile's crew and rose through the ranks, eventually becoming Capo after the death of Aprile and his successors Gigi Cestone and Ralph Cifaretto. When his brother Bryan was beaten by Salvatore "Mustang Sally" Intile, he ordered Bobby Baccalieri, Sr. to kill him. 
Vito's first hit contract seen on the show was his cousin Jackie Aprile, Jr., after he went into hiding. Vito shot Jackie in the back of the head in a murder attributed to African-American drug dealers, and in 2006, he killed a man after he insisted on filing a police report on him for crashing into his car. 
That year, he became acting boss when boss Tony Soprano was wounded, and acting boss Silvio Dante was also in a coma. Spatafore and Paulie Gualtieri stole $1 million worth of drugs in a stash stolen by some Colombians, but soon after, Tony returned from the comatose and took charge of the family again.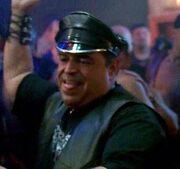 In August of 2006, Spatafore was spotted in a gay club by Sal Iacuzzo, a Lupertazzi soldier who ran the nightclub, provocatively dancing and kissing a shirtless gay dancer. He tried to play it off as a joke to Iacuzzo and his bodyguard, but they did not believe him, and after Vito left, he collected money and a picture of him and Marie before going on the run, fearing the consequences of this outing. He started a relationship with Jim Witowski and they made love, and he moved in, but later, he decided to resume his New Jersey life and returned to Tony Soprano. Vito told Tony that his homosexuality was caused by medication, but Tony did not belive him, and soon after, Phil Leotardo demanded that Tony kill him; he was a powerful mob boss, so Tony had to (reluctantly) acquiesce. 
Death
[
]
Tony Soprano and Carlo Gervasi plotted to kill Spatafore, with Gervasi lying in wait at the mall to assassinate him at a meeting with Tony. Spatafore instead headed to his motel, not going along with the plan, and when he opened the door, he found Dominic Gamiello and Gerry Torciano, Lupertazzi crime family Caporegimes, waiting. Phil Leotardo literally came out of the closet and told Vito that he was a "fucking disgrace", and the two Capos beat him to death with pipes.
The body of Spatafore was found with a pool cue in his rectum, imitating anal sex, which suggested that his death occurred because he was homosexual.